Horrorfind Weekend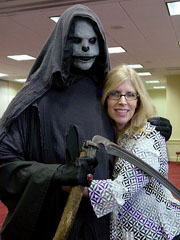 It's hard to believe the second date of our
Night of the Living Dead
40th Anniversary Tour is already behind us. We've all eagerly anticipated each of these events and it's a shame they pass by so quickly.
One of the highlights of my weekend was having dinner at Mo's Seafood in Baltimore with Judy O'Dea, Bill Hinzman and Michelle Morgan of
Diary of the Dead
. Thanks again for driving us, Bill! You really are the #1 Zombie!
I reconnected with some old friends and made some new ones (always networking!) and I look forward to seeing them at other venues in the near future. I even collected a few more tattoos for the
gallery
!.
Thanks to Horrorfind and all the NOTLD fans for a great weekend!
Our next stop will be Fangoria in Los Angeles next month. Come on out and see us!
xo,
~K
P.S. Oops! I almost forgot -- Horrorfind pictures are posted
here
.