Fangoria's Weekend of Horrors - Los Angeles
I've only been back from Fangoria's Weekend of Horrors a few days and it's already kind of a blur. I seem to have spent the weekend in a fog of jetlag and sleep deprivation. Maybe I only dreamt about it. If that's the case, it was a decent dream.
Friday night there was a midnight screening of
Night of the Living Dead
at the Egyptian Theater in Hollywood. I didn't go because I couldn't even keep my eyes open. How pathetic is that? I didn't spend much time hanging out with my Dread Central buddies at this convention, either. I did have two lovely dinners with Judy and Bill, which is always a treat, but we were all pretty burned out from the
very
long days. We "dead" people didn't stay at the host hotel, so we were separated from the bar-life and parties that typically fill convention evenings. All things considered, that may have been for the best.
Socially, however, all was not lost; I did meet some very cool people of the non-celebrity persuasion. I picked up a couple more tattoos for my
Tattoo Gallery
and finally met Bobby Villalba, a guy whose tattoo was already in my gallery. I remembered his name as soon as he showed me his tattoo, and that his brother had done the tattoo. I can't remember my own name some days, but there's just something about the people who have my face tattooed on them that I can't forget. It's a strange bond.
And speaking of bonds, I met Sharon Jenkins, a long-time fan of NOTLD, who noted my Obama obsession and brought me an adorable Obama bobblehead! It was an unbelievably sweet thing to do, especially because she, herself, is not an Obama fan. We hung out for a while at my table and discovered we have a lot in common. Aside from our political ideologies, we could be twins who were separated at birth. It's nice to know I have a sister on the west coast!
I also met a couple of artists whose work I absolutely love. Gina Quaranto's skulls are pictured in this photo; she was kind enough to load me up with all of these and I want to thank her again for her generosity and kindness. I have the skulls hanging all over my house and they make me smile. I love "Day of the Dead" imagery - hers, particularly. Visit
Gina's MySpace page
and throw some business her way. Her artwork is wonderful and she's a super-nice person. I had a great time talking to her and her husband throughout the weekend.
Victor the Snake Mannn (yes, there are three "Ns" in his name) had a table there. He makes gorgeous sterling silver jewelry and I picked up one of his little silver spider pendants. Check out his work at
Nightwind Creations
.
Eddie Allen of
Haunted Memories Changing Portraits
was there, too. He's a really nice guy, and coincidentally, went to high school with Judy O'Dea's daughter! I spent the weekend drifting toward his table, mesmerized by the portraits, and after staring at them for three days I bought three of the 5x7s. They'll reside on a wall among some old family photos.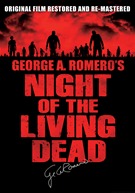 Max Brooks moderated our panel on Sunday and he asked about Spiffy. As you know from one of my previous blog entries, we love him! He was as nice Sunday as he was at Pittsburgh's ZombieFest in October. At the end of our panel, they showed a snippet of the documentary attached to the new release of
Night of the Living Dead
. It's called
One For The Fire: The Legacy of Night of the Living Dead
, and I'm very eager to get my hands on it. It includes my dad's last, very emotional interview and I'm very thankful to Mike Felsher, who edited the documentary, for leaving it in. I was present for that interview and there wasn't a dry eye in the room. We were all privileged to witness a very special and beautiful reminiscence that was, blessedly, preserved for all time, and for all to see. It was a thoroughly anti-Harry Cooper moment. I just pre-ordered my copy and while I was there I pre-ordered
Diary of the Dead
which I have yet to see! Both are being released by
Dimension Extreme
on May 20. Just a few more weeks!
Our next stop on the tour will be Fangoria (again), but this time in Secaucus, NJ. I think I'll be a little more relaxed and rested for that one because I'll finally be on my summer vacation. Yippeee! I'm looking forward to seeing some east coast friends while I'm there.
I didn't take too many pictures at the convention, but the ones I do have are
here
. Enjoy!
And Happy May Day!